Carpe Diem, Bed & Breakfast near lake Garda
In Solferino, one of the most beautiful villages in Italy
Seize the day in our small family owned and run Bed & Breakfast near Lake Garda. You can find us in Solferino, one of the most beautiful villages in Italy with just over 2000 inhabitants. It is situated in the hills south of Lake Garda, 12 km from Sirmione, Desenzano del Garda and Peschiera del Garda. At first glance it may seem like a forgotten village – where time has stood still – but it is here that the roots of Italian unification and the foundation of the International Red Cross lie. In 2018 Solferino received the Bandiera Arancione or orange flag, a distinctive sign of the Italian Touring Club for villages that excel in hospitality but also for the special value of its monuments and its naturalistic context.
Our Bed & Breakfast is located right in the centre of this beautiful village and is your ideal starting point for an authentic and unforgettable holiday!
Bed & Breakfast Carpe Diem is located in a quiet spot right in the historic centre of the village of Solferino and also overlooks the beautiful landscape of the surrounding green hills of Lake Garda. Within walking distance you will find a wide choice of places to eat: pizzerias, trattorias, restaurants and an ice cream parlour and pastry shop.
It is the ideal place to visit Lake Garda and its surroundings, as well as the art cities of Northern Italy: Verona, Mantua and Brescia.
This beautiful hill region with its small, idyllic villages is sometimes called "a piece of Tuscany in Lombardy". You can relax here, but you can also enjoy an active and sporty holiday.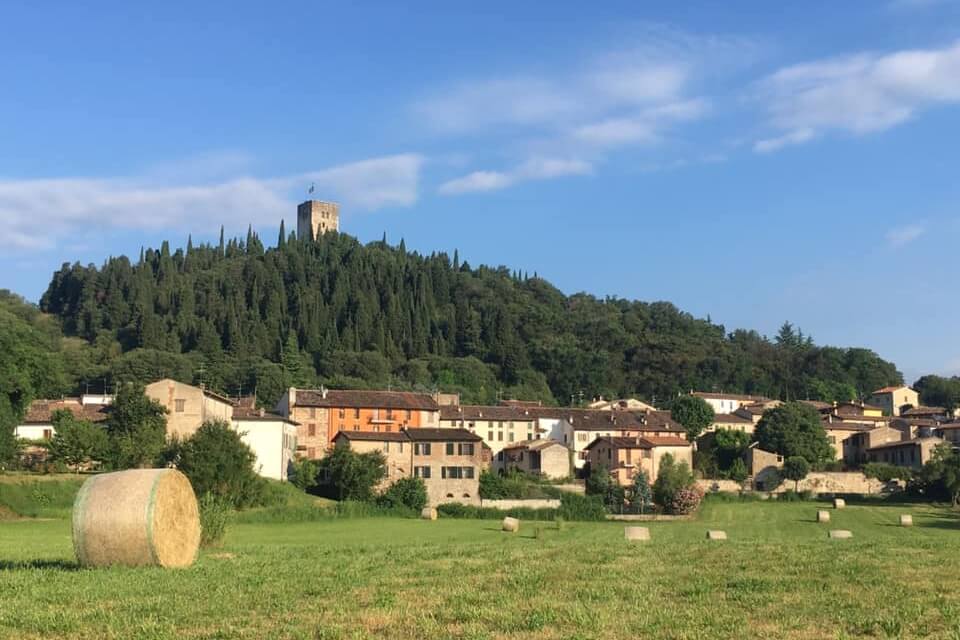 An, your hostess, local guide and "compass" for discovering the area
An: "I am a certified tourist guide and I have been in love with Italy since I was five years old. Thanks to my many years of experience in the world of tourism and my extensive knowledge of the area you will discover the real Lake Garda and its surroundings and visit less touristy places. Join me on a trip or ask for advice on planning your holiday."
Our small family Bed & Breakfast near Lake Garda has 3 cosy rooms and can accommodate 9 people.
You are located in the centre of the village – just a few steps from bars, restaurants and shops – but at the same time from our courtyard you have a wonderful view of the gentle landscape of the Garda hills.
The Bed & Breakfast has an independent entrance and all rooms have a private bathroom and are equipped with all comforts.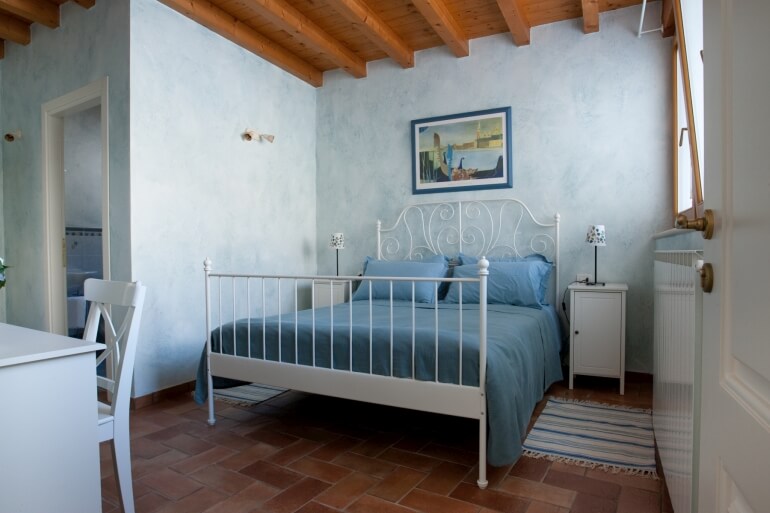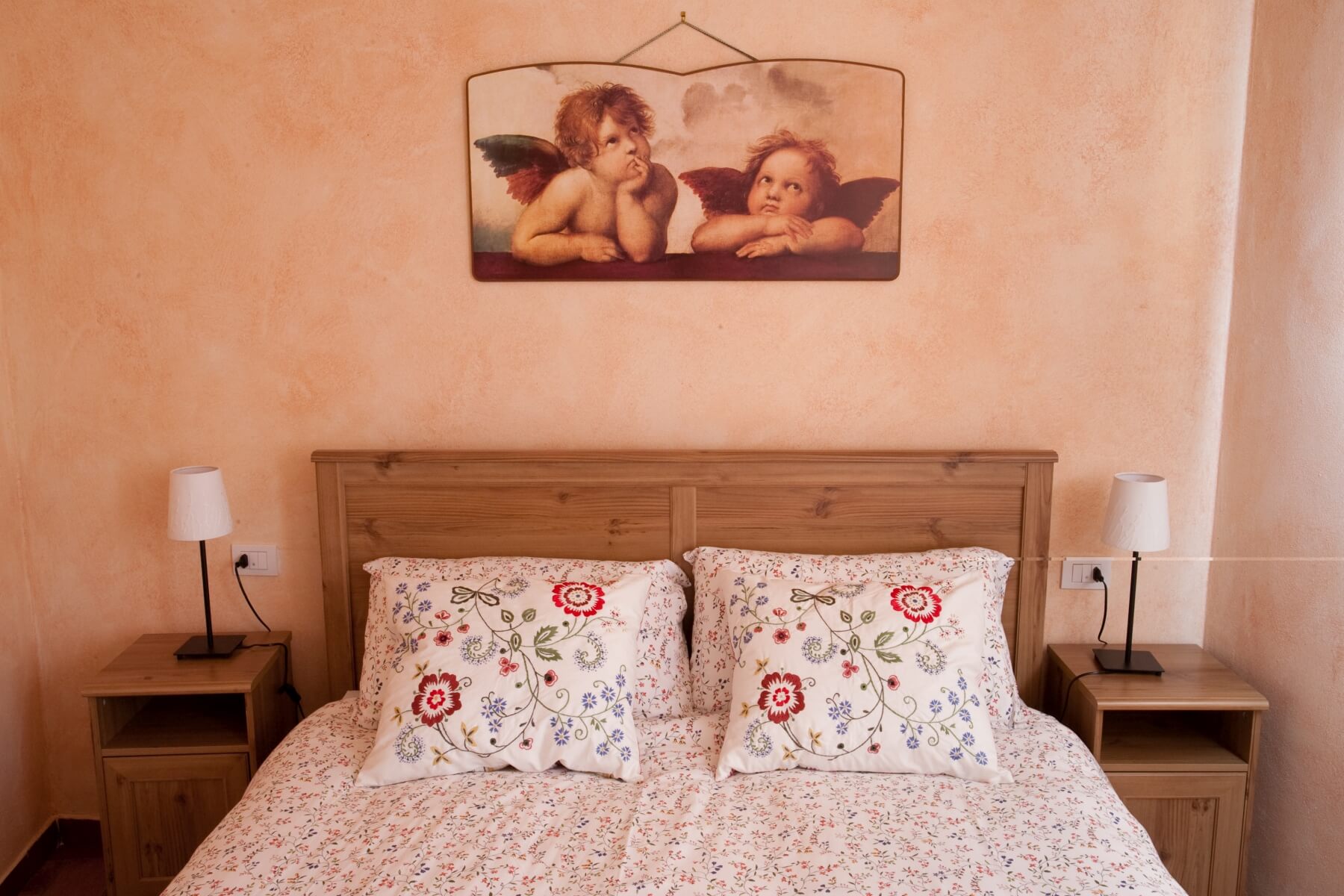 Our breakfasts offer a delicious assortment of local specialities, both sweet and savoury, coffee, cappuccino and tea. In the summer you can have breakfast outside on the terrace, while enjoying the beautiful view.
The richness of two cultures in a Bed & Breakfast near Lake Garda
When Flemish culture meets Italian culture… We, An, your Flemish hostess, Mauro, your Italian host and our son, Tobia, will help you experience the best of both cultures. Our motto speaks for itself: Carpe Diem or Seize the day! We try to enjoy the local life of our village and all that the area has to offer as much as possible: nature, culture and gastronomy. It makes us very happy to share this passion with you. And above all, we love to welcome you as guests, but even more to see you return as friends.
An Absolute Delight
We stayed at Carpe Diem for two nights in June and we wish we could have stayed longer! The room was all you could wish for, and very clean with air conditioning. Breakfast was a selection of meats and cheese, cereals, fruit, fresh pastries and more. Lovely views from the terrace at breakfast. An the hostess makes the stay even better! Her knowledge of the local area was such a bonus and gave us good advice on where to go. Her English was perfect so no problem in communication.
We would recommend not only Carpe Diem Bed and Breakfast over any impersonal hotel but also the area of Solferino which lies just a 15-20 minute drive from Lake Garda. Solferino is a very pretty area and near Carpe Diem you will find places to eat: restaurants, cafes and pizzerias. The views in the area are truly beautiful. If you are considering a stay at Lake Garda (which is very touristy and busy when we were there) we would suggest staying at Carpe Diem, Solferino and then travelling the short distance to the Lake – it would be well worth it.
Thanks An for making our short stay perfect!
Mickyh11, review Tripadvisor
Bed & Breakfast Carpe Diem ©2023 | General conditions | Privacy statement
Fiscal Code: BRN NRD 70E41 Z103T | License number B&B: 020063 / H 55234 / 4854 | ​Region code:  020063-BEB-00002